Exit 57 was a half-hour sketch comedy series produced by HBO Downtown Productions for the Comedy Central cable network in 1995 and 1996.
The sketches took place within the fictional suburban setting of Quad Cities.  The opening credits depicted the five cast members standing near their broken down car on the side of the highway. A bizarre motorist picks them up. The driver was listening to a news report on the radio about a serial killer, but he changes the station. The song "If I Knew You Were Coming I'd Have Baked a Cake" plays as he holds a camera up to snap photos of each passenger. Paul, Stephen, Jodi, Amy, and Mitch become visibly suspicious of their driver's strange behavior and they ask him to pull off the highway onto Exit 57.
The stars and creators of Exit 57 (Paul Dinello, Stephen Colbert, Amy Sedaris, Mitch Rouse) all knew each other from their days with the famed Second City comedy troupe.
During Exit 57's two-year run, the show earned five CableACE Award nominations for best writing, performing, and comedy series.
1995 Season, Show #1
Additional Material – A. Whitney Brown, Mick Napier, David Pasquesi, The Talent Family (David Sedaris)
An idealistic office worker (Jodi Lennon) writes "Practice Random Acts of Kindness" on a piece of paper, folds it into a paper airplane, and tosses it out her office window. The plane hits a man on the street (Stephen Colbert) in the eye.
During a mugging reenactment in the Joliet Correctional Facility, a mugging victim named Mr. Edmonds (Mitch Rouse) is asked by a mediator, Mr. Sharps (Stephen), to recreate the incident with the perpetrator, Lenny (Paul Dinello).
Paul sings "My Wife Dumped Me for a Guy Named Jesus" after his Christ-loving lady, Rita (Amy Sedaris), leaves him for the Lord (Mitch).
It's January 22, 1960 in the Quad Cities Medical Center and young Margo Burwell (Jodi) is about to be committed by her husband Frank (Paul) because she's unresponsive in bed. The doctor (Stephen) seeks input from Nurse Betts (Amy), Bob Caswell (Mitch), and a secretary (Cindy Caponera).
Strangers With Candy Alert: Nurse Betts has Jerri Blank's face and voice. She also happens to mention "musky treasures" and burrowing "like a badger", references that would later be made by Coach Wolf and Mr. Jellineck respectively on SWC.
An office worker (Paul) plays emotional mind games by making his coworker Cindy (Jodi) think that he has feelings for her, but when she tells him that she has feelings for him too, he claims that he was just kidding.
1995 Season, Show #2
Additional Material – A. Whitney Brown, Paul Kozlowski, Mick Napier, David Pasquesi, The Talent Family
A man (Mitch) is ambushed in the park and has a forced dental cleaning, performed by a troup of dental guerrillas (Paul, Stephen, Amy, Jodi)
A teenager (Paul) just wants to go watch a baseball game, but his parents, Persephone (Amy) and Tyrone (Stephen), want to know which one of them he would save if they were drowning in a bottomless lake.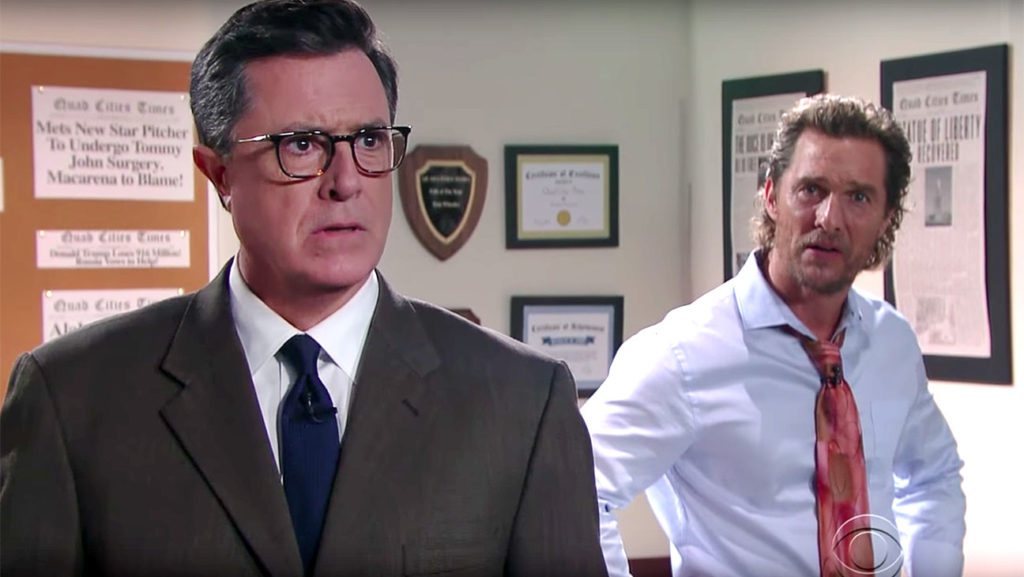 It's April 8, 1959 and everyone at the Quad Cities Medical Center is smoking cigarettes. A patient, Kent Tareyton (Paul), is smoking during his examination. Dr. Winston Viceroy (Stephen), Nurse Chesterfield (Jodi), Dr. Marlboro (Mitch), and the patient's pregnant wife (Amy) are also puffing away while trying to determine what that spot on Kent's x-ray could be. While making small talk, Dr. Marlboro asks Dr. Viceroy how his weekend was. Viceroy says that he and his wife had gone up to Newport on a Lark, to which Marlboro responds, "Kool." When Marlboro looks closely at the spot on the lung he asks Nurse Chesterfield which laboratory processed the x-rays. She tells him that it was L&M Laboratories on Parliament. Marlboro reveals that the L&M technician Carlton had dropped cigarette ashes on x-rays in the past, creating similar troublesome burn spots on the images. This is a relief to Viceroy, who had been dismayed by the way that both Benson and Hedges had been running Pall Mall over the whole department. In the end, Dr. Viceroy tells Tareyton that he is okay and can return to work in the coal mine.